Updates Entry
February 6, 2013
Feb. 13 - Big Muddy Speaker Series - St. Charles 2013
"The Prehistory of the Lower Missouri River"

presentation by Joe Harl, St. Louis Archeological Research Center
Wednesday, February 13, 2013
6. p.m. Meet at Big A's Restaurant
6:30 p.m. Presentation
At Big A's Restaurant
308 N Main St. -  St Charles, MO
(directions below)
St. Louis has been a cultural hub going back 12,000 years, since the last ice age. Being at the Confluence of the continent's two longest rivers, it has always been a site of pilgramage, trade and a diversity of cultures. 
Joe Harl and his collegues at the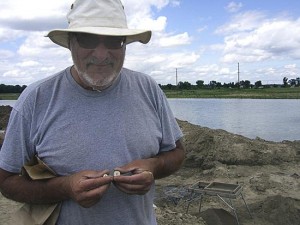 St. Louis Archeological Research Center have been involved in many recent archeological digs revealing this rich heritage here. He will be sharing his knowledge of the parade of cultures in this area, from the first hunting bands, through the widespread Woodland culture, the complex civilization of the Mississippians based out of Cahokia and the later groups moving through as Europeans moved into the area.
There is no one in the area that knows quite as much as Joe Harl about the latest discoveries of our heritage in the Confluence area.
Mr. Harl graduated from Washington University in St. Louis with an MA degree in Anthropology.  He has been performing archaeological investigations across Missouri and Illinois since 1978 with the University of Missouri-St. Louis, and has served on the board of directors for the Missouri Archaeological Society and the Missouri Association of Professional Archaeologists.
Top photo - a wood duck effigy, image courtesy of arc-stl.com. Bottom image from a story in the Suburban Journal
Directions
To Big A's Restaurant, our host for the Speaker Series.
To get there from I-70 -
Take I-70 to exit 229B - the 5th St. Exit
Merge onto 5th St. headed north toward St. Charles.
After about 1 mile, turn right on Monroe St.
Turn left onto N. Main St.
Big A's will be on your right (308 N. Main St.) Additional parking is available in the rear.
www.riverrelief.org is created and maintained by Missouri River Relief, P.O. Box 463, Columbia, MO 65205
Copyright © 2020 Missouri River Relief, photos copyright © their respective owners
Site designed and built by Josh Nichols.